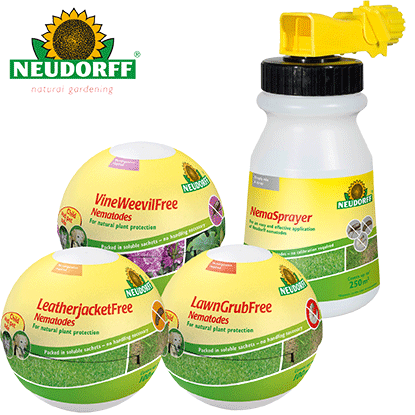 2018 launches for Neudorff stay true to the company's ethos of providing highly effective products covering weed, feed and control categories whilst maintaining excellent environmental credentials.
The company will showcase its new range of fridge-free nematodes for tackling
troublesome pests at the upcoming show. The new range can be stocked directly on
the shelf and includes three products; VineWeevilFree, LeatherJacketFree and
LawnGrubFree each has a shelf-life of six months, which makes obtaining
nematodes much easier, gardeners can simply buy and use them without worrying
about storage.
For the easy application of the nematodes Neudorff also launched the new
NemaSprayer, which has been specifically designed and pre-calibrated for simple
spraying of the new range without the need for a watering can.
In addition, the company has expanded it's best-selling Sluggo® Slug & Snail Killer
range, new Sluggo Ultra contains twice the amount of the active ingredient, iron-III-
phosphate, which also occurs in nature. In addition, the successful Fast Acting &
Long Lasting Weedkiller concentrate is now available in an improved dosing bottle,
which makes measuring out the liquid simple and mess-free.
Neudorff's wide range of existing products include organic solid and liquid fertilisers
for plants and edibles, effective weed and bug controls which contain active
ingredients derived from nature where possible, plus a range of organic lawn
treatments.
For more information visit www.neudorff.co.uk.